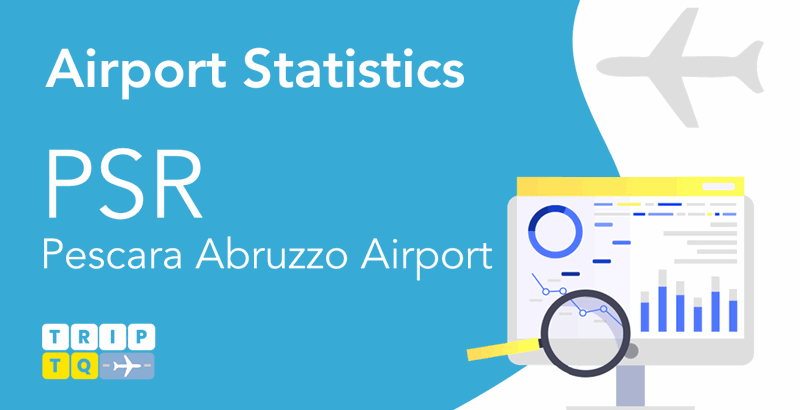 Pescara Abruzzo Airport Passenger Numbers - Up 39% in August 2023
According to available records, Pescara Abruzzo Airport in Italy has experienced a remarkable surge in passenger numbers. During August 2023, it witnessed a significant all-time high of 39.40% in passengers compared to the pre-pandemic year of August 2019, representing 99,856 and 71,628 passengers, respectively. This substantial growth highlights the airport's resilience and success in attracting more travelers despite challenging times.
One major factor that has contributed to the surge in passenger numbers is the airport's extensive connectivity. It has established itself as a crucial link between various destinations, enabling seamless travel experiences for tourists and locals alike. With its well-connected routes and partnerships with major airlines, the airport has become a gateway to the enchanting Abruzzo region, captivating Adriatic coastlines, and enticing nearby destinations. Such access to diverse and awe-inspiring locations has undoubtedly added to the allure of traveling through this hub, making it a preferred choice for many travelers.
Another contributing factor is the convenience it offers. The airport boasts modern facilities and efficient services, ensuring smooth and hassle-free travel experiences for all visitors. Its strategic location, proximity to popular tourist spots, and excellent transportation links make it a desirable entry point for those exploring Abruzzo's stunning beauties. Moreover, the airport's commitment to providing top-notch amenities, including comfortable lounges, dining options, and duty-free shopping, enhances the overall travel experience and leaves a lasting impression on passengers.
This airport's dedication to constant development and innovation is a key aspect that sets it apart. Its continuous efforts in expanding its operations and enhancing infrastructure have fueled its steady growth. In August 2023, the airport further solidified its positive trend by achieving new milestones in passenger numbers. This accomplishment speaks volumes about its commitment to meeting the industry's evolving demands and adapting to travelers' changing needs. Pescara Abruzzo Airport embodies progress and prosperity, reflecting the region's spirit of advancement.
With the region's breathtaking landscapes, captivating history, and rich cultural heritage, more travelers are flocking to this lesser-known destination. Pescara Abruzzo Airport is the gateway to this unexplored paradise, charming visitors with its warm hospitality and opening doors to unforgettable experiences. From the majestic mountains of Gran Sasso to the picturesque coastline of the Adriatic Sea, this region offers a treasure trove of wonders waiting to be discovered.
The airport has emerged as a thriving aviation hub, witnessing a remarkable surge in passenger numbers. It has proven its resilience and ability to attract travelers even in challenging times. Pescara Abruzzo Airport's extensive connectivity, convenience, commitment to growth, and the allure of Abruzzo itself have contributed to this success. This airport will continue to be a vital cornerstone of travel in Italy, bridging the gap between people, places, and experiences.
UNBEATABLE VALUE CAR RENTAL
FREE
Amendments,
FREE
Cancellations,
NO
card fees!

airport_shuttle Need Airport Transfers?
Useful Information about Pescara Abruzzo Airport