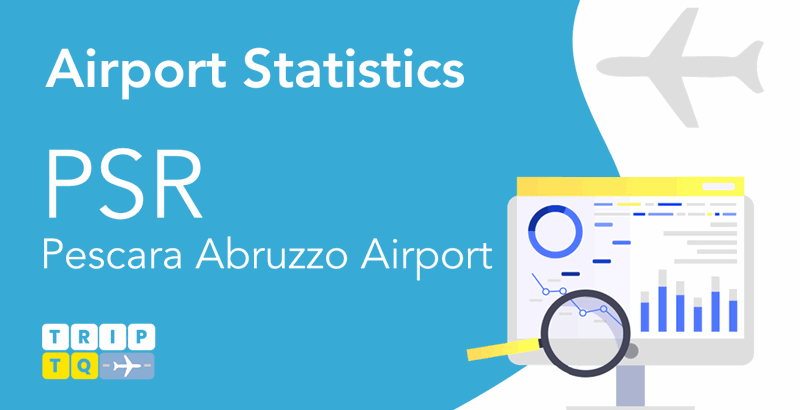 Abruzzo Pescara Airport Passenger Numbers Soar 15% in Q3 2023
Abruzzo Pescara Airport, a vital gateway to Italy's Abruzzo region, has emerged from the pandemic stronger than ever, achieving a remarkable 15.35% increase in passenger traffic in Q3 2023 compared to the same quarter in 2022. This impressive growth has propelled the airport beyond its pre-pandemic passenger levels, welcoming 294,872 passengers in Q3 2023. This achievement stands as a testament to the airport's resilience and its unwavering commitment to providing a seamless and enjoyable travel experience for its passengers.
Sustained Passenger Growth at Abruzzo Pescara Airport - Q3 2023
Abruzzo Pescara Airport in Italy has been making continuous efforts to increase passenger volume growth. The significant improvement in Q3 2023 is a testament to these efforts. The airport saw a 15.35% increase in passenger volume compared to the same quarter of the previous year, marking a positive and encouraging progress.
From Q3 2019 to Q3 2023, the airport has experienced various fluctuations in passenger volume. In Q3 2019, the airport served 216,444 passengers. However, due to the global pandemic, the number dropped to 66,333 passengers in Q3 2020, a decrease of 69.35% from the same quarter of the previous year.
Despite the challenges, the airport managed to bounce back with a 184.02% increase in Q3 2021, serving 188,401 passengers. The upward trend continued in Q3 2022 with a remarkable 35.68% increase, serving 255,628 passengers. In Q3 2023, the airport served 294,872 passengers, continuing the positive trend.
Abruzzo Pescara Airport Passenger Volume - Q3 2019 to Q3 2023
The Q3 2023 passenger traffic data for Abruzzo Pescara Airport shows a promising recovery compared to the rest of the quarters. The airport served 294,872 passengers in Q3 2023, surpassing the pre-pandemic levels of Q3 2019 and other quarters after that. This means the airport has successfully and fully recovered from the impact of the pandemic on passenger traffic at this airport.
The airport served 216,444 passengers in Q3 2019, which is lower than the 294,872 passengers served in Q3 2023. Therefore, while the Q3 2023 figures show a significant improvement, the airport has not only recovered to pre-pandemic levels but also surpassed them. This consistent growth trend from Q3 2020 to Q3 2023 is a positive sign of the airport's resilience and adaptability in the face of global challenges.
Passenger Traffic at Abruzzo Pescara Airport – 2019 to 2022
The passenger traffic at this airport has experienced significant changes over the past five years. In 2018, the airport served 656,437 passengers, which increased by 6.53% to 699,308 passengers in 2019. However, a drastic decline of 75.56% was observed in 2020, with the passenger count dropping to 170,887. This was likely due to the global pandemic that severely impacted air travel worldwide.
In 2021, the airport began to recover, with passenger numbers increasing by 121.50% to 378,510. The recovery continued into 2022, with a remarkable increase of 89.08% in passenger traffic, bringing the total to 715,695 passengers. This significant increase suggests a strong recovery and return to pre-pandemic levels.
The reasons for this substantial increase in 2022 could be multifaceted. It may be attributed to the easing of travel restrictions, increased vaccination rates, and the pent-up demand for travel after prolonged periods of lockdown and travel restrictions.
The implications of this trend are promising for the future of this gateway. If the current growth rate continues, it is likely that passenger traffic will soon surpass pre-pandemic levels. This could lead to increased revenue for the airport and a positive impact on the local economy. However, it is crucial for the airport to continue implementing safety measures to ensure the health and safety of all passengers amidst the ongoing global pandemic.
Flight Statistics at Abruzzo Pescara Airport - September 2023
In September 2023, the airport's top destinations were Italy, Belgium, the United Kingdom, Germany, and Romania, reflecting the airport's strong connections to major European cities and its appeal to budget-conscious travelers. These destinations were served by a diverse array of airlines, including leading low-cost carriers Ryanair and Wizz Air, as well as regional airlines Luxair, Buzz, and Malta Air.
Brussels, London, Bucharest, Tirana, and Dusseldorf were the most popular international destinations for the month, offering a rich blend of historical attractions, cultural experiences, and cosmopolitan cityscapes. Visitors to Brussels could explore the Grand Place, a UNESCO World Heritage Site, or visit the European Parliament. London beckoned with its iconic Buckingham Palace, the British Museum, and the vibrant West End.
Bucharest, the capital of Romania, showcased its blend of Byzantine, Ottoman, and modern architecture, while Tirana, Albania's capital, offered a charming mix of Ottoman-era buildings and contemporary art galleries. Dusseldorf, a major commercial hub in Germany, presented its renowned art scene, including the renowned Kunstsammlung Nordrhein-Westfalen.
Ryanair and Wizz Air, two of Europe's leading low-cost carriers, dominated the airport's operations in September, providing frequent and affordable flights to a wide range of destinations across the continent. Ryanair's extensive network and competitive pricing made it a popular choice for travelers seeking value for money, while Wizz Air's expansion into new Eastern European markets attracted passengers looking to explore off-the-beaten-path destinations.
Luxair, the national airline of Luxembourg, offered direct flights to Brussels from the airport, catering to both business and leisure travelers seeking a convenient connection to the European capital. Buzz, a subsidiary of Ryanair, complemented the parent company's network with flights to popular tourist hotspots, while Malta Air, the national airline of Malta, provided connections to the Mediterranean island, known for its sunny beaches, historical sites, and delectable cuisine.
The airport's strategic location in Central Europe and its excellent connectivity to public transportation made it an attractive choice for travelers seeking to explore Europe and beyond. With its diverse range of destinations, reliable airline services, and efficient operations, the airport served as a gateway to a world of cultural and travel experiences, catering to a wide range of travelers, from budget-conscious backpackers to discerning business executives.
Are you a travel publisher and would like this information for your site/blog/publication?
Contact us on this form to request Abruzzo Pescara Airport Statistics (Statistics, data and infographics are available for a wide range of airports worldwide - please tell us your requirements using the form)
UNBEATABLE VALUE CAR RENTAL
FREE
Amendments,
FREE
Cancellations,
NO
card fees!

airport_shuttle Need Airport Transfers?
Useful Information about Pescara Abruzzo Airport