Pescara Abruzzo Airport Arrivals (PSR)
Not all flights may be showing. If not available use search above to find your flight by airline, airport or flight number.
Origin
Airline
Flight no.
Scheduled
Est./Actual
Status
Turin (TRN)
Ryanair
FR929
09:10
Delayed
London (STN)
Ryanair
FR982
11:10
Scheduled
No flight arrivals were found at Pescara Abruzzo Airport.

Flight Arrivals at Pescara Abruzzo Airport
When arriving at Abruzzo Airport (PSR), please remember to collect your luggage from the baggage claim area before exiting to landside.
WiFi at Abruzzo Airport
PSR offers free WiFi connection all visitors at the airport, in all terminal areas. Connect to the network named "abruzzoairport Free WiFi", accept the privacy agreement and open up your browser.
Transfers at Abruzzo Airport
Rental Cars – The rental car companies at Abruzzo Airport have desks located in the arrivals area once through to landside. It is recommended to have the car of choice booked in advance to ensure the availability.
Buses – TUA operates Line 8 and Line 38 that connects the airport and central Pescara, and the airport and Pescara Railway Station known as Pescara Centrale. Buses depart with an interval of around 20 minutes from 6.00 AM to 11.30 PM, daily. Tickets can be purchased in the ticket machine in the arrivals area or in exact change on the bus.
It is possible to transfer by bus to different destinations, including Rome, or the nearby Pescara Centrale train station. More about buses at Abruzzo Airport.
Taxis – A taxi rank is located outside the arrivals area of the airport terminal. The journey to central Pescara takes around 15 minutes and the fare is around €20. More about taxis at Abruzzo Airport.
Shuttles and Rideshares at Abruzzo Airport
These options of transfer are not available without a pre-arrangement by the traveler or their representative. Arrangements are made directly with the company in the way the specific company of choice requires arrangements to be made. See more about booking a private transfer to or from Abruzzo Airport.
Trains at Abruzzo Airport
There is no train station directly at the airport, but there is one in Pescara, called Pescara Centrale. From there trains depart to various destinations around Italy, including Rome. More information about train services near Abruzzo Airport.
Smoking at Abruzzo Airport
It is forbidden by law to smoke in all public indoor spaces in Italy, although special smoking rooms are allowed in certain places. We do not have any information about the smoking areas at Pescara Abruzzo Airport but they should be signposted.
Lost Luggage at Abruzzo Airport
In the case luggage is missing or lost travelers have to first go to the Lost & Found SAGA Office located in the customs area of the airport, right before the exit of the baggage claim area. In the case the office is unattended please go to the check-in ticket office zone in the departures area where SAGA personnel will fill the Property Irregularity Report, PIR, with a phone that is useful for following up the missing luggage. If luggage is still missing after 5 days, please contact the airline directly.
PRM Assistance at Abruzzo Airport
Assistance for Persons with reduced mobility should be requested at the latest 48 hours before the departure of the arriving flight to make sure it is available for the traveler's arrival. This is requested through the airline, and not through the airport, directly. There are regulations allowing larger luggage allowance to PRMs due to the transport of medical and mobility aids, and assistance dogs can travel for free in the aircraft as long as requirements are met.
ATMs at Abruzzo Airport
There are 2 ATMs/cash machines located in the airport's terminal, one outside the arrival's area and one next to the ticket office.
Charging Points at Abruzzo Airport
Free of charge charging points for smartphones, tablets and laptops are located in various locations throughout the terminal.
Worship Hall at Abruzzo Airport
A room for worshiping and a moment of tranquility is located in the arrivals area of the airport, open to everyone who wishes to pray or meditate or sit in silence for a while before or after their flight.
First Aid at Abruzzo Airport
First Aid stations are located in the baggage claim area on airside as well as in the arrivals area on landside. The latter is available to all.
Shopping, Food and Beverages at Abruzzo Airport
There are a few shops located in the departures area on the landside. There is a small place to get coffee/soft drink and snacks located in the baggage claim area and one in the gate area, as well as one bigger place in the departures area on landside, available to all.
Was your flight delayed or cancelled?
You may be eligible to receive up to 600 EUR compensation per person in your party..
Claim Now!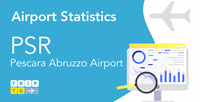 The airport recorded 17,399 passengers in July 2020, while July 2023 saw a remarkable rise to 102,099 passengers, reflecting a substantial growth rate of 486.81%...