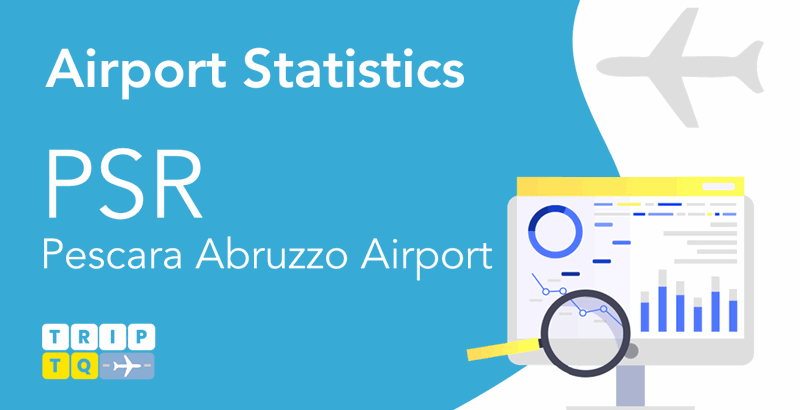 July Passenger Traffic at Pescara Abruzzo Airport – Up by 487%
Pescara Abruzzo Airport experienced an unprecedented surge in passenger numbers in July 2023, with an impressive increase of 486.81% compared to the same month in pandemic-ridden 2020. The airport recorded 17,399 passengers in July 2020, while July 2023 saw a remarkable rise to 102,099 passengers, reflecting a substantial growth rate of 486.81%.
One of the main reasons behind the surge in passenger numbers is the pent-up demand resulting from the global pandemic and subsequent lockdowns. As travel restrictions eased and vaccination rates increased across Europe, travelers were eager to venture out, leading to a pronounced rebound in international and domestic travel. This surge can be attributed to the desire for leisure trips, family reunions, and business travel that had been postponed or canceled during the height of the pandemic.
The second key factor is the renewed confidence in air travel. With improved safety protocols, enhanced sanitization measures, and introduction of pandemic-related vaccines, travelers have regained trust in flying. The consistent implementation of health and safety measures at Pescara Abruzzo Airport, including compulsory mask-wearing, frequent sanitization, and social distancing, has reassured passengers and made them feel secure during their journeys.
The third significant reason is the expansion of flight routes. Pescara Abruzzo Airport has actively worked to attract new airlines and expand services, connecting the region to more destinations. The addition of popular tourist destinations, business hubs, and convenient connections has enticed leisure and business travelers to choose the airport as their gateway to the Adriatic coast and other parts of Italy.
Lastly, the collaboration between Pescara Abruzzo Airport and tourism organizations has played a pivotal role. The joint efforts to promote the region's attractions, culture, and natural beauty have increased interest from domestic and international tourists. The marketing campaigns highlighting the region's diverse experiences, such as beautiful beaches, historical sites, and culinary delights, have caught travelers' attention, seeking unique and authentic experiences.
As passenger numbers continue to rise, the airport management is committed to maintaining top-notch services and improving the overall passenger experience. Their focus remains on enhancing connectivity, fostering partnerships, and ensuring that Pescara Abruzzo Airport remains a vital transportation hub for leisure and business travelers visiting this breathtaking region of Italy.
UNBEATABLE VALUE CAR RENTAL
FREE
Amendments,
FREE
Cancellations,
NO
card fees!

airport_shuttle Need Airport Transfers?
Useful Information about Pescara Abruzzo Airport